Common name: L-norvaline
Synonyms: norvaline, (S)-2-Aminopentanoic acid, (2S)-2-aminopentanoic acid
Active ingredients: L-norvaline
CAS NO.: 6600-40-4
Molecular Formula: C5H11NO2
Molecular Weight: 117.15
Structure: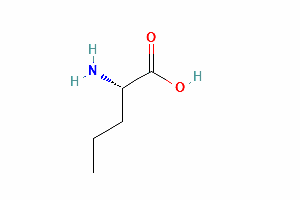 Main Specifications: 99%
Test method: HPLC
Appearance: White powder
Heavy Metals: NMT10ppm
Residual solvent: Conform to USP39, EP8.0
Packing: 20, 25KG/ cardboard drum
Storage: Store in cool and dry place and keep away from strong direct light and heat
Shelf Life: Two years when properly stored


Applications:
What's L-norvaline?
L-norvaline is a water-soluble amino acid that is an isomer of the branched-chain amino acid (BCAA) valine. Norvaline is a widely used ingredient in pre-workout products thanks to its blood flow and pump enhancing properties.
Health Benefits of L-norvaline
1. For Bodybuilders
Norvaline's ability to increase endogenous arginine levels is the reason why this ingredient is often found in pre-workout supplements. As has already been mentioned, arginine helps to increase nitric oxide levels in the body, which can increase blood flow in the body. This can help deliver more vital oxygen and vital nutrients to the muscles, promoting workout performance. Norvaline can also help support pump during workouts.
2. Male Enhancement
Because nitric oxide production aids in blood flow, it is also critical to creating pathways within the blood flow for penile erections. When the male body can produce more NO, this increase in blood flow enters the penis and the blood sinuses in much of the penis volume. This increase in the blood sinuses then acts to compress the veins, draining the blood from the penis. This uptick of inflow and outflow causes an erection and assists it in lasting longer.
3. Synthesizes Perindopril
L-norvaline can synthesize perindopril, which is an ACE inhibitor. ACE stands for angiotensin-converting enzyme and is part of one class of antihypertensives. These medications, when taken regularly, can aid in lowering blood pressure by encouraging blood vessels to relax and widen, which stimulates the free flow of nutrient-rich blood. Medical doctors commonly prescribe aCE inhibitors to patients with hypertension to lower blood pressure and encourage healthy flow throughout the body.
4. Reverse Decline from Alzheimer's
A study performed on mice showed L-norvaline's possibility of reversing the effects of Alzheimer's, a slowly progressive neurodegenerative disease on the body. Research supports the positive impact L-norvaline has at amplifying NO production based on the fact it inhibits arginase.